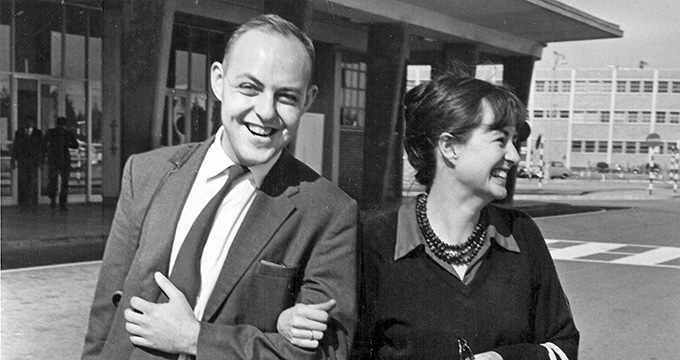 The Good Terrorist
The moving and provocative story of anti-apartheid activist John Harris — who was hanged after a fatal bombing in Johannesburg in 1964 — told by those who knew him best and through newly-discovered home movies.
During rush hour on 24 July 1964, Harris, a prominent anti-apartheid activist who helped get South Africa barred from the Olympics, walked into the Johannesburg train station and left a suitcase packed with dynamite on the whites-only concourse.  His warning calls were ignored, resulting in an explosion which injured dozens of bystanders, killed one woman, and severely maimed her young granddaughter.
If his action was a symbolic protest, it backfired spectacularly. Harris was hanged eight months later, the only white activist ever executed by the South African state, leaving behind a wife and young son. But Harris was later honoured by post-apartheid leaders for sacrificing his life for black freedom.
Was he a hero or villain?  The question, sensitively explored in this documentary, continues to haunt all those affected by his actions. The young girl whose life Harris changed forever moved abroad and took on a new identity in order to escape press attention. Now, half a century later, Harris's son, David, returns to South Africa and retraces his father's footsteps. Back in the UK, in an emotional encounter, David finally meets the reclusive victim who watched his father plant the bomb.
What the critics say…
"A cold, sobering account of an apartheid atrocity. An utterly absorbing journey into two families' hearts of darkness." — Ed Power - The Telegraph
"… momentous…amazing insight" — The Star
"… moving, it wouldn't be human not to be touched" — The Guardian
Director: Simon Finch
Producer: Channel 4 / Borough Productions / Tern TV
Run Time: 50 minutes
Stay in your seats
Followed by a Skype interview with Terry Bell, a South African writer who spent time in prison with John Harris.
---
Followed by…

Noma: Forgiving Apartheid
At the height of the apartheid regime, seven-year-old Noma Dumezweni fled South Africa with her mother. She had never known a permanent home until she arrived as a refugee in small town England. Noma, today a critically acclaimed stage actress in London, revisits her past as she takes on a new role that will bring her back to her birthplace. Emmy nominated director Sarah Townsend follows her on her journey exploring identity, parenthood and the legacy of apartheid. What will Noma find when she comes face to face with a father she hasn't seen in over 30 years? Uplifting and inspiring, Noma – Forgiving Apartheid is a film for the heart and the soul.
Community Partner

What the critics say…
"Remarkable.  Deals not only with the impact of apartheid and the political history of South Africa, but is …."ultimately about healing, and about families learning to forgive each other'". — Derry Journal
"Director Sarah Townsend captures
[Noma's] …. homecoming with sensitivity and insight.  The story has a pertinence to modern politics that carries far bigger weight than its 40-minute runtime suggests." — 
Ivan Radford – Vodzilla.co
"Noma – Forgiving Apartheid is a wonderful film." — Jude Law 
Honours
Best Long Documentary - South West London International Film Festival
Raindance Film Festival
Scandinavian Film Festival
FoyleFilmFestival
Director: Sarah Townsend
Run Time: 38 minutes