Saturday, April 21, 2 p.m.
Glitter Boys and Ganglands
Canadian Premiere
BUY TICKETS 
Buy Festival Pass / Buy Flex 4 Pass
As 14 contestants battle it out for the title of Miss Gay Western Cape in South Africas biggest female impersonator pageant, we follow three contestants through the prelim rounds, into the back‐stories of their lives, all the way to the outrageous spectacle of the night. The film is both gritty and glamorous, capturing the humour, the drama, tears and triumphs of the girls who step out from the Cape Flats and onto the ramp to vie for the tiara and the chance to prove themselves.
Winner: Best LGBT Award ‐ San Diego Black Film Festival 
Documentary, 2011
Run Time: 60 min
Director: Lauren Beukes
Language: English, Afrikaans with English subtitles
Rating: PG (coarse language; nudity)
FOLLOWED BY…
Mama Goema
Canadian Premiere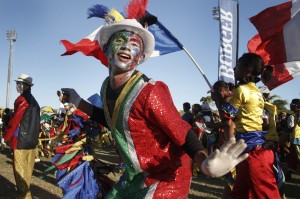 If you take a pinch of Khoi‐San lament, a dash of Malay spice, a bold measure of European orchestral, a splash of Xhosa spiritual, a clash of marching bands, a riff of rock, the pizzazz of the Klopse, some driving primal beat, and a lot of humour and musical virtuosity, what do you get? Goema Goema Goema! Weaving together the ancient, the traditional, and the classical into the contemporary universal sound of Cape Town, Mac MacKenzie, musical master‐ mind and founder of The Genuines and The Goema Captains of Cape Town, puts together the final touches to the culmination of his life's work: Goema in Five Movements.
Winner: Audience Award for Best Feature Length Documentary – Tri Continental Film Festival  
Documentary, 2011
Run Time: 60 minutes
Directors: Angela Ramirez, Sara Gouveia, Calum McNaughton
Language: English, Afrikaans with English subtitles
Rating: G