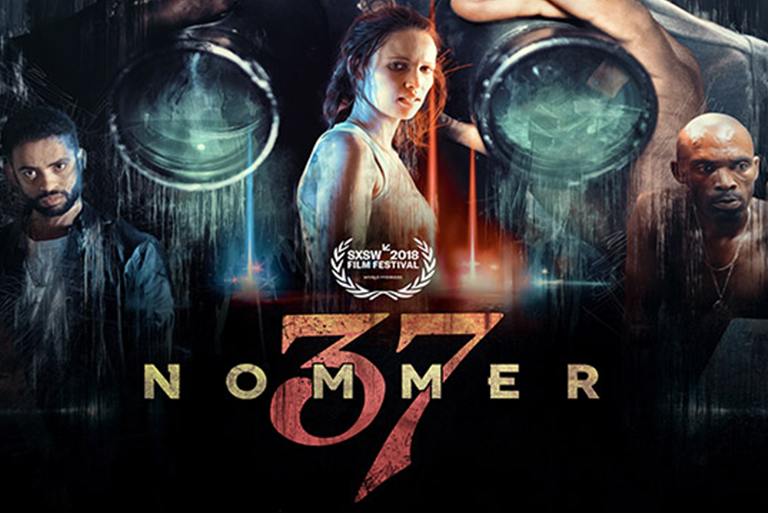 Nommer 37 is a taut thriller inspired by Alfred Hitchcock's film-noir classic "Rear Window".  Award-winning South African writer-director Nosipho Dumisa makes her feature debut and ratchets up the tension until it crackles.  A paraplegic man Randall (Irshaad Ally) and his girlfriend Pam (Monique Rockman) play a risky game of cat and mouse when they blackmail a powerful criminal (David Manuel) while evading a sadistic loan shark (Danny Ross).
The rich and intimate cinematography, on-location in Cape Flats locales, enhances the film and contributes to the high drama. We are trapped, together with Randall and Pam, both in their sketchy apartment and in their desperate attempts to escape their moral and economic destinies.
What the critics say…
" … the sadistically intricate rapport between Randall and Pam [is] the main draw here.  The further they sink into their spiralling criminal scheme, the deeper their passion for each other grows, and it's quite thrilling to watch."  Keith Uhlich – The Hollywood Reporter
"Nosipho Dumisa has paid tribute to a classic, while simultaneously building something completely her own. Hitchcock would be proud."  Aaron B. Peterson – The Hollywood Outsider.
" … a slick and entertaining film with gutsy performances …" Kwanele Sosibo – Mail and Guardian
" … a brave and bold directorial debut …. about greed, loyalty, love and redemption."  Masego Panyane – IOL
" … slick execution and impressive acting … the cinematographer is the opposite of immobile, his camera sweeping the teeming courtyard between apartment buildings and sneaking through narrow hallways and stairwells."  Jeannette Catsoulis – New York Times
Honours
Best Director, Fantasia International Film Festival – Montreal
Mayhem Film Festival - Nottingham
Director: Nosipho Dumisa
Producer: Bradley Joshua, Benjamin Overmeyer
Running time: 110 minutes - Feature
Language: Afrikaans with subtitles
Rating: PG