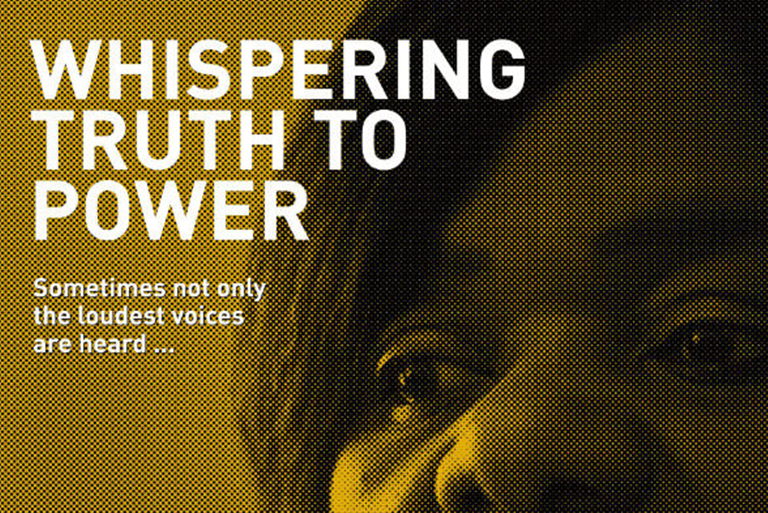 Filmmaker and human rights lawyer Shameela Seedat tracks Thuli Madonsela, South Africa's first female Public Protector (National Ombudsperson), as she builds her case against the country's President, Jacob Zuma.  Despite allegations of spying, humiliation in parliament and death threats, Madonsela forces Zuma to return public money unlawfully spent on the construction of his private home. In her final year in office – chronicled in the film - she attempts to prove Zuma is allowing business partners of his son to systematically take over the government in order to secure massive financial gain.  How does one weigh the importance of fighting government corruption against the moral crime of ongoing inequality in South Africa?
Whispering Truth To Power also explores the relationship between Madonsela and her daughter - a child of the new South Africa, a member of the Economic Freedom Fighters, militantly opposing the ANC – where Madonsela herself was an activist in the struggle against apartheid.
Followed by a Skype Q & A with Prof. Thuli Madonsela.
What the critics say…
"… a timely portrait of a …. public servant who uses her office for good at a pivotal moment in South African politics." Jury, Hot Docs - Toronto
"In the relationship between the Madonsela women we see an intergenerational conflict that is steeped in love and doused in bitterness …. perhaps a perfect metaphor for the state of South Africa."  Sisonke Msimang - africasacountry.com
"… documentary filmmaking at its most relevant and powerful." IOL
"This is a deeply South African story, but one that feels very much in line with this current historical moment around the world."  Christopher Vourlias - Variety
Honours
Special Jury Award, Hot Docs International Film Festival - Toronto
Best South African Documentary - Jozi Film Festival
Encounters Film Festival (opening night film)
Sydney Film Festival
Sheffield Film Festival
Doc Edge - New ZealandZ
Durban International Film Festival
Bergen International Film Festival
Zimbabwe International Film Festival
Watch Docs - Poland
Director: Shameela Seedat
Screenplay: Shameela Seedat
Producers: Shameela Seedat, François Verster, Neil Brandt, Milan Collins, Brechtje Smidt
Running time: 88 minutes - Documentary
Language: English
Rating: PG
Sponsored By: